Floor Soundproofing, Part 3
How Can I Soundproof My Floor Without Tearing Everything Up?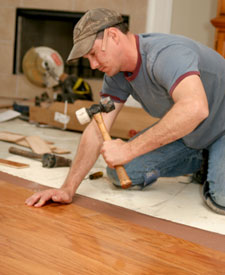 You do have some options to improve the soundproofing on your current floor, particularly if you have a floated floor or carpet.
Typical floor soundproofing projects include a 2nd or 3rd floor Home Theater/Media Room, basement location of the same thing, mother-in-law suite, basement remodel, etc.
In many cases the STC (sound blocking) component and the IIC component are both a concern with floor soundproofing. There are soundproofing solutions available for one, but maybe not for both issues.
Again, your evaluation should be done carefully before selecting a floor soundproofing product. Given careful consideration, the noise problems requiring floor soundproofing can be solved with one product. If the floor covering can be removed, an appropriate floor soundproofing product can be installed. At that time, some steps to address squeaking, popping and movement of the sub floor can be taken to help with soundproofing. Finally, the original floor covering can be installed and reused.
Contributing Soundproofing Expert:
Jody Cook
Sound Isolation Company