Myths About Window Glass & Stopping Noise, Part 2
Historical Homes & Single Pane Windows
Myth: You Must Replace the Glass to Insulate or Soundproof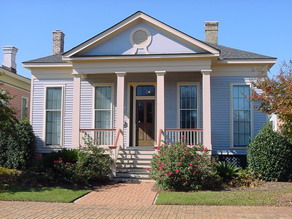 Photo provided courtesy of Soundproof Windows, Inc.
Changing out single pane windows are not always an option. If the glass is old glass from before 1920 that is "wavy", then you do not even want to replace the glass. If the glass is not wavy, you may want to replace it with thicker glass. This is usually the most practical solution, although with multiple lite windows it is often time consuming. Fix the seals as best you can, using various weatherstripping.
You don't have to replace your old historical windows or single pane windows to achieve soundproofing. Going to a two-window system and avoiding replacement would be an alternative.
Dual Pane Windows
Myth: Replacing Your Existing Dual Pane Windows Will Stop The Noise
Most window companies will tell you that if you replace your windows with new dual paned windows it will solve your noise problems or soundproofing problems. They are incorrect. They say that for one of three reasons:
1. Some customers say that when the windows were replaced, "it was so much quieter," etc. While true, the fact is, it made a quiet place quieter, which is much easier than making a noisy place quiet. They want to believe what some customers told them.
2. They really do not know much about soundproofing and they "think" this should solve the noise problem – especially since they do not know what else they could do for you.
3. They want to sell you windows and they know (read think) it will at least help a little.
Many people will spends 10's of thousands of dollars replacing their windows with better dual pane windows. The result is seldom sufficient to solve anyone's noise problems or soundproofing problems. Often the new noise problems can actually be worse than the noise problems with the old windows. Consequently, some people spend thousands more soundproofing the walls, expecting that to now be the problem. All too often, after all these expenses, they simply sell the house and move because they cannot stand the noise. This does not need to happen.
You can go to a two-window system, avoid the expense, and achieve peace and quiet.
Contributing Soundproofing Expert:
Randy Brown
Soundproof Windows, Inc.